Tucked away in my earliest memories, I see myself sitting next to my dad on the living room couch–him reading to me, but sometimes me to him–in the evenings before being sent off to bed. I must have been between four and six, but clearly the ritual started long before that.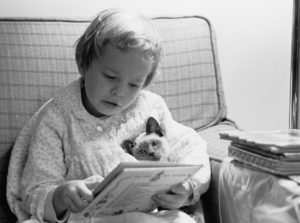 By age three, I was "reading" to my beloved Siamese cat, and best friend, Tea-bee. Look at that stack of books waiting for the two of us!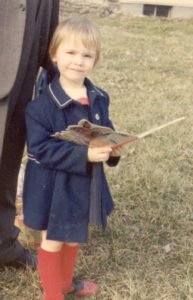 Here I am on Easter just before my fourth birthday holding a book I must have read a thousand times. It was about a bunny that changed colors. Oh, how I loved the illustrations in that book. The book itself was extra special because the edge was cutout in the shape of the bunnies ears. Does anyone out there remember the title of this book?
---